Thursday, May 1st is a national day of prayer.  So what? Do we really believe this is going to change anything? It might!
I think it depends on the attitude in which we approach this "Day of Prayer"…Do we come willing to accept guidance? Or are we just looking for blessing?
Standish, in his book Becoming a Blessed Church, describes a spiritual affliction. This affliction manifests itself in "little expectation that members will experience and encounter God, or connect what they do to God's purpose, presence, and power."
It sounds absurd when put like that, but its true. In our churches we don't expect to encounter God's purpose, presence, and power. We pray because we know we are supposed to. We pray because, "Eh, it can't hurt." and We pray because we've run out of other ideas. We pray because it is a "Day of Prayer." God save us from this type of praying!
A seminary professor of mine, Father Gabig, described prayer as "wasting time with God." He did not mean that prayer is a waste of our time. He meant that our prayer is like the time we spend with our families, and our friends, where it doesn't matter what we do. We just want to spend time together. Prayer begins here, spending time with God. When we spend time with God and in His presence, we become attuned to His purpose, and we unleash His power.
I pray to you now God, may tomorrow be a time when we become attuned as a people, as a church, and as a nation to your presence. May we seek your Purpose for us, rather than merely asking your blessing on our own agenda. And may we allow your Holy Spirit to be at work in us, not just tomorrow, but everyday in our daily life and work. May we, by your grace and power, become a people who pray without ceasing, always seeking your presence, purpose, and power.
If you don't know how to pray or what to pray for you can check out the Book of Common Prayer's list of Prayer's here.
To find Day of Prayer events in your area you can go to the official day of prayer webpage: http://nationaldayofprayer.org/ their event finder can put you in touch with local places to go and pray.
Finally, if you are looking for a way to become more in tune with God's Purpose, Presence and Power as a Church, or Church leader, I HIGHLY recommend this book: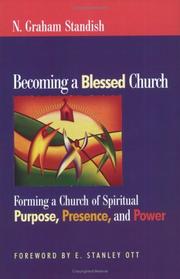 Becoming a Blessed Church:  Forming a Church of Spiritual Purpose, Presence, and PowerN. Graham Standish; Alban Institute 2004WorldCat•LibraryThing•Google Books•BookFinder